There's a new therapeutic method that I have been trying lately and it's been life changing.  It's not a new thing for me, but it's highly recommend to you all.  It's called Minding Your Own Business, or MYOB for short.
I'm a huge advocate and you should be too!  Gone are the days of inquiring and asking about things that don't concern you.  A short list of items that don't concern you:
Any woman's uterus.  It's rude to ask when someone's having kids.  PERIOD.
Any person's bank account that does not belong to you.
Business ventures that you have not invested money into.  Keep your opinion, b.
Why someone is doing anything (if they ain't yours, it's ain't your biz)
Any adult's outfit choice.  Mind yours, you didn't buy it.
The list goes on and on, but you get the point: MIND YOURS.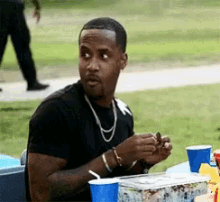 I know you're saying "But, Ashley, I'm good at minding my business, but what do you do when someone is minding my business too?"
Short answer –> TEACH THEM.
Sometimes you gotta teach people how to mind their own business.  If they ask you something that does not pertain to them, it's okay to kindly decline to share.  If you do this enough times the behavior can be learned.    People's business spreads faster than anything, but if you're not telling yours who would know?
"But Ashley, I'm a fan of minding my business, but people tell me their's because they want to unload"
I, too, am an active listener…but, the key to being a good listener is ONLY LISTENING.  If someone confides in you and tells you something, keep it with yourself.  It's possible to keep your business and any other business someone has given you to your self.  It's called being a confidant.
So please, people…if you're not trying to help change someone's situation, just don't get in their business.  If you're not offering helpful solutions to their problems or if they're not confiding in you, just mind yours.  If you have poor intentions just mind your business.  Some things you just don't need to know.